I rented Marie Antoinette the other day, and fell in love with the soundtrack all over again. One song in particular got stuck in my head: "Fools Rush In". I kept thinking how perfect it is for Harry, and how well it fits my view of the whole H/D...thing. I've been wanting to try my hand at a real fanmix for a while, and this was the perfect excuse :)
15 songs (.m4a and .mp3)

With a wallpaper to go with it, 'cause I like the cover art and wanted to use it.
PS If you're interested in a particular song just ask and I'l upload it separatedly.

EDIT: Added matching icons and 2 FO banners.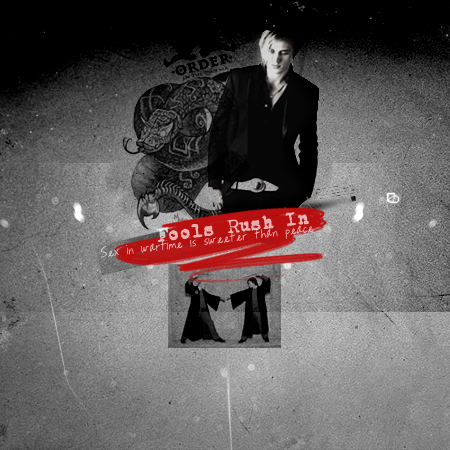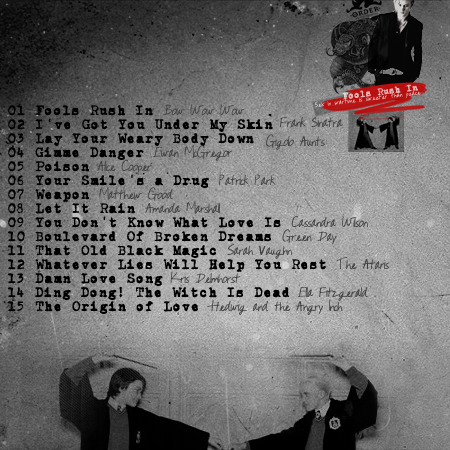 DOWNLOAD
1024x768
1280x1024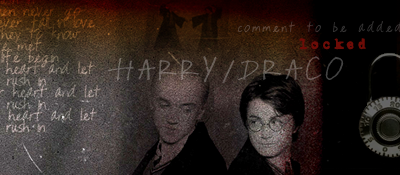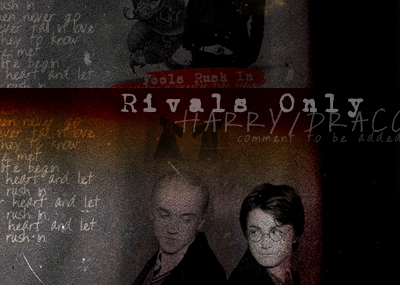 Fools Rush In
(Harry)
fools rush in
where angels fear to tread
and so I come to you my love
my heart above my head
though I see
the danger there
if theres a chance for me
then I dont care

The song that started it all.

Lay Your Weary Body Down
(Draco)
When everything that once was right is wrong
And every little ray of hope is gone.
When you feel a bit more lost than you feel found.
Lay your weary body down

Draco right after HBP, discovering exactly what being a Death Eater means and watching his world being turned upside-down.

I've Got You Under My Skin
(Harry)
I've tried so not to give in
I've said to myself this affair never will go so well
But why should I try to resist, when baby will I know damn well
That Ive got you under my skin

Well, Harry's obsession with Draco *is* canon :P Not that Draco doesn't obsess right back...

Gimme Danger
(Draco)
there's nothing in my dreams
Just some ugly memories
kiss me like the ocean breeze
Come on little stranger, die a little later
Swear you're gonna feel my hell

War changes people -on both sides- and danger is bound to play a big part in the h/d attraction.

Poison
(Harry)
I want to hurt you just to hear you
Screaming my name
Dont want to touch you but
Youre under my skin
I want to kiss you but your lips
Are venomous poison

Anger, lust, helpless attraction...h/d in a nutshell.

Your Smile's a Drug
(Draco)
you tongue tied talker with sleepy eyes
that always get the last word
you're not broken
you're just tired and it shows

Love the first two lines, I believe Draco thinks of Harry pretty much in these terms :) A bit of hurt-comfort.

Weapon
(Harry)
Here by my side, you are destruction
Here by my side, a new colour to paint the world
Never turn your back on it
Never turn your back on it, again
Here by my side, its heaven

How can Harry trust Draco?

Let It Rain
(Draco)
I have been a witness to the perfect crime
I wipe the grin off of my face to hide the blame
It isnt worth the tears you cry to have a perfect alibi
Now Im beaten at the hands of my own game

Another Draco after HPB song -waiting for someone to give him a way out, knowing full well that whatever choice he makes a part of him will always regret it.

You Don't Know What Love Is
(Harry)
You don't know how hearts burn
For love that cannot live yet never dies
Until you've faced each dawn with sleepless eyes
You don't know what love is

Harry's relationship with draco is a far cry from the crush he had on Cho and the puppies&flowers love for Ginny -it's painful, complicated, passionate and volatile.

Boulevard Of Broken Dreams
(Draco)
My shadow's the only one that walks beside me
My shallow heart's the only thing that's beating
Sometimes I wish someone out there will find me
'Til then I walk alone

What can I say, I love confused, lonely Draco. (Just waiting for Harry to give him a chance.)

That Old Black Magic
(Harry)
That old black magic has me in its spell,
that old black magic that you weave so well.
Those icy fingers up and down my spine
That same old witchcraft when your eyes meet mine.

Lol, I couldn't resist. It's almost an h/d clichè that the moment someone discovers the relationship Draco is accused of using imperius or a love potion on Harry. Sometimes it's even true. That old black magic...called love.

Whatever Lies Will Help You Rest
(Draco)
And it's probably safe to say
I'm not the worlds safest bet
I've never been too good at being good
And it's probably safe to say
Whenever things are at their best
Whatever lies will help you rest

Even Draco doesn't trust himself.

Damn Love Song
(Harry)
After all of these years, look at me here
With a love song stuck in my throat.
Got the weight of the world on my shoulders,
I won't let it go.

Being the saviour of the world since you were one isn't exactly a walk in the park, and then he had to go and fall in love with the wrong person. *hugs Harry*

Ding Dong! The Witch is Dead
Ding Dong! The Witch is dead. Which old Witch? The Wicked Witch!
Ding Dong! The Wicked Witch is dead.
Wake up - sleepy head, rub your eyes, get out of bed.
Wake up, the Wicked Witch is dead.

Even war has to end sooner or later -every time I hear this song I remember the first chapter of the Philosopher's Stone, with people partying in the streets. And I wonder, how comes we never hear of a Dark Lady? Come on, Bella would be perfect for the job! She's far more frightening than Voldemort.

The Origin of Love
Last time I saw you
We had just split in two.
You were looking at me.
I was looking at you.
You had a way so familiar,
But I could not recognize,
Cause you had blood on your face;
I had blood in my eyes.
But I could swear by your expression
That the pain down in your soul
Was the same as the one down in mine.

Finding each other again after the war, and building a life in a completely different world. Also, it' s the perfect song for any OTP, with the "one soul split in two" theory.